Layout canvas
So you've been accepted to a REALITY journey. Now what?
First, take a moment to celebrate! We can't wait for you to join us in Israel for a full week of learning, connecting and experiencing Israel firsthand with other leaders from across the globe.
Now, for the details. We've put together three comprehensive checklists to guide you through completing all the necessary steps before, during and after your REALITY journey.
If you have questions not answered here, send us a message!
Use the following links to quickly locate your desired information:
Pre-Departure Checklist
Five tasks to complete before going to Israel.
✓ 1. Obtain all necessary travel documents.
All REALITY participants need to have a valid passport. You must renew your passport if it expires less than six months from the start of your REALITY Israel journey. U.S. citizens do not need a visa. If you are traveling from outside the U.S., please check visa requirements with your local Israel consulate as soon as you have been accepted on a REALITY journey to ensure you can obtain any documents necessary to travel to Israel.
We can provide you with proof of the REALITY invitation and other relevant documents you may need to obtain the visa. However, we cannot go on your behalf to a government office in Israel or otherwise.
✓ 2. Get vaccinated against COVID-19.
Although the Israeli government does not require tourists to be vaccinated to enter Israel, tourists need to be vaccinated to receive an Israeli Green Pass, which exempts tourists from entering isolation if exposed to COVID-19 while in Israel. Therefore, we require that all our REALITY participants are vaccinated.
Acceptable vaccination status means either:
A participant has either received two vaccine doses (or a single vaccine dose in case of the Johnson & Johnson vaccine) and at least 14 days have passed since the administration of the second dose (the vaccination day is not counted)
 
A participant has a received a booster dose and at least 14 days have passed since the administration of the second dose (the vaccination day is not counted)
Non-Israeli citizens vaccinated with the Sputnik V or Sputnik Light vaccine will be required to take a serologic test upon arrival in Israel and to stay in isolation until receiving a positive result (in addition to the isolation of 24 hours or until receiving a negative result on the PCR test taken at the airport in Israel).
✓ 3. Purchase comprehensive medical travel insurance, including COVID-19 coverage.
While standard travel insurance is not required, Israeli law says that all travelers arriving in Israel must obtain an insurance policy with coverage for medical treatment of COVID-19. Therefore, we require participants to get travel medical insurance to protect themselves from the unexpected costs associated with receiving medical care in a foreign country or having to alter their travel plans due to unforeseen circumstances.
Participants are responsible for the cost of their own travel medical insurance coverage while on a REALITY journey. Please ensure that your travel medical insurance covers medical treatment of COVID-19, particularly we suggest the following:
Hospitalization due to COVID-19
Emergency evacuation in case you are infected with COVID-19 and cannot be admitted to an appropriate hospital in Israel due to overcrowded hospitals
Repatriation in case of death/funeral expenses in the case of death due to COVID-19
Flight rearrangement after a hospitalized COVID-19 infection
Accommodation payment in the case of a COVID-19 diagnosis and need to isolate
If you do not have an insurance company you work with, a few recommendations for companies to contact include Allianz Global Assistance, Travel Guard and Travelex.
In addition to purchasing travel medical insurance, you are also responsible for ensuring you have received all immunizations recommended by your health care provider for this journey.
✓ 4. Confirm compliance with COVID-19 protocol.
One week before your journey, you will receive an email from the REALITY team asking that you understand and will comply with our program's COVID-19 protocol. Please review the email and submit your confirmation.
✓ 5. Fill out Israel's Entry Form.
Within 48 hours of your departure to Israel, fill out Israel's required entry statement form. Confirmation of completion of the entry statement is also a precondition for boarding the flight to Israel.
As part of this entry statement form, you will be able to upload documentation of vaccination or COVID-19 recovery to receive a Green Pass, which will exempt you from entering isolation if exposed to COVID-19 while in Israel.
Those who have a certificate of vaccination or recovery that can be digitally verified through the Ministry of Health's systems will upload their certificate to the form and receive a Green Pass to their email when the form is complete.
Vaccinated individuals who do not have a certificate that can be digitally verified through the Ministry of Health's systems will declare their vaccination status in the form, attach the relevant documents to the form and receive a Green Pass via email when the form is complete.
Recovered individuals who do not have a certificate that can be digitally verified through the Ministry of Health's systems will not automatically receive a Green Pass after filling the form. If they are required to enter isolation following exposure to a COVID-19 patient, they will be able to present relevant documents to an epidemiological researcher with the Ministry of Health.
✓ 7. Take a PCR test or rapid antigen test.
As of May 20, 2022, Israel no longer requires a negative COVID-19 test for entry. To keep our community healthy and safe, REALITY requires that all participants produce a negative result from an at-home test within 24 hours before departure for Israel.
Alternatively, if you are considered recovered from COVID-19 according to the latest CDC guidelines, you are cleared to join the REALITY journey without performing an at-home test.
Israel Arrival Checklist
One task to complete upon arrival to Israel.
✓ 1. Present completion confirmation of traveler's declaration.
At border control in Israel, you will also be asked to present confirmation of the completion of the declaration for travelers. REALITY will provide clear step-by-step instructions on how to complete this form.
Israel Departure Checklist
Two tasks to complete before leaving Israel.
✓ 1. Before your flight, take a rapid antigen test.
Assuming you are departing on the group flight from Israel, 24 hours prior to leaving, REALITY will arrange rapid antigen tests administered by professional staff. You must show a negative test result to board your flight. This is mandatory both by Israeli law to depart Israel and by American law to re-enter the U.S., so make sure you keep proof of your test results.
If you are not returning on the group flight, you are responsible for arranging your own recognized rapid antigen test.
✓ 2. Follow all entry requirements.
If you are flying back to a country that is not the U.S., please make sure you are aware of any entry requirements and flag these for REALITY so we can help coordinate any additional tests you may need (everyone will have the opportunity to perform a recognized rapid antigen test 24 hours prior to the group flight's departure).
Additional Information
Explore an overview of the journeys we offer and get your questions answered.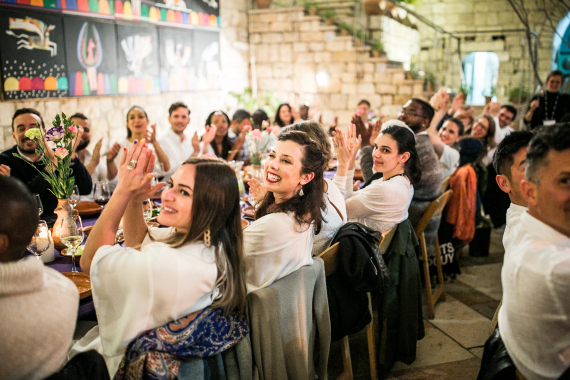 REALITY Journeys
Our weeklong journeys to Israel are curated for influencers at the forefront of societal innovation, including world-renown chefs, bestselling authors, record-breaking athletes, social justice leaders and more.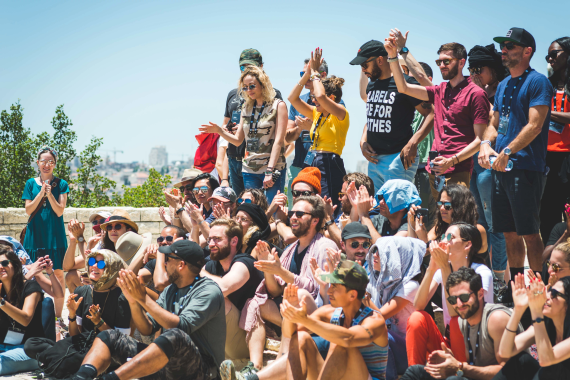 FAQs
Have questions about our registration process, health regulations or accessibility details? We have answers!