Layout canvas
A step-by-step guide to building an effective leadership development program
With help from research firm Learning For Action, Charles and Lynn Schusterman Family Philanthropies did a deep dive into our flagship fellowship programs in order to answer a crucial question: Just how effective are these programs in developing leaders who can effect social change?

Around the same time, Rockwood Leadership Institute engaged with Learning For Action to undergo the same exercise, and for both of us, the results were illuminating. Our findings highlighted key successes and gave us plenty of places where we can improve, innovate and grow.

Despite the quantity and caliber of many leadership initiatives, we have found that surprisingly little evaluation data has been shared regarding the strategies, curricula and points of emphasis that define successful programs. We decided to distill our learnings into a new resource so that other organizations could benefit from our journey.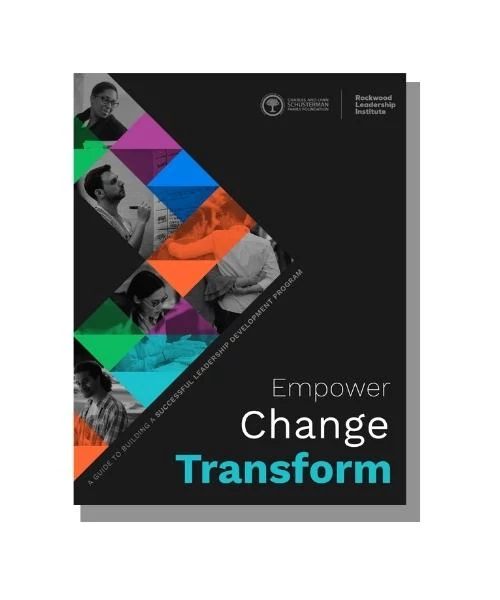 We sincerely hope that others can glean helpful insights from our experiences to bolster their work and empower more leaders to tackle the complex challenges facing our communities and our world.
What's Inside
Inside, you'll find five key recommendations that unlocked game-changing insights for both of us:
Set the stage for vulnerability
Focus on emotional intelligence
Be intentional about relationship-building
Design the right coaching experience
Encourage sector and cross-sector collaboration
The guide also includes a powerful, actionable checklist for building a successful leadership development program, based on our shared learnings and our own path forward. Additionally, we pull back the curtain on Learning For Action's findings about our organizations.
Finally, it includes recommended resources for fostering diversity, equity and inclusion within your leadership development efforts.
Empower, change and transform with our Leadership Development Guide.