Tags
Jewish Community

Jewish Leadership
SUMMARY
Amid increasing threats to women's rights and freedoms, Jewish organizations are at the forefront of advancing women's rights within Jewish communities and throughout the United States. The groups' efforts range from advocating for abortion access to supporting survivors of domestic violence, to encouraging safe, respectful and equitable Jewish workplaces and communal spaces.
American women are facing an onslaught of serious threats to their safety and freedoms, including the end of the constitutional right to abortion and persistent rates of domestic violence. Jewish communities are not immune, and increasing numbers of Jewish groups are stepping up to push back against these trends on the national stage and drive efforts to foster women's equality and safety in Jewish spaces. 
Three grantees in Schusterman Family Philanthropies' U.S. Jewish Grantmaking portfolio are leading these efforts with demonstrable results. Their initiatives include but aren't limited to, fundraising among its members to provide financial support for women who must travel for out-of-state abortions, mobilizing the Jewish community to help survivors of domestic violence gain financial literacy, and collaborating with Jewish organizations to address and help end sexual harassment and other abuses of power.
 
"Abortion is a Jewish issue"
American Jews are extraordinarily united in support of reproductive freedom, including abortion access, which is seen as not only a basic right but a matter of religious freedom.
In 2014, eight years before Roe was overturned, a striking 83% of Jews surveyed by the Pew Research Center said abortion should be legal in all or most cases. "Abortion is a Jewish issue, and talking about separation of church and state is the way we can win back access," says Sheila Katz, an ROI Community member and CEO of the National Council of Jewish Women (NCJW), a 130-year-old grassroots organization with 210,000 U.S. members. 

In recent years NCJW has become the leading Jewish community voice on reproductive rights and abortion access, serving both as an advocate and repository of information for the Jewish community.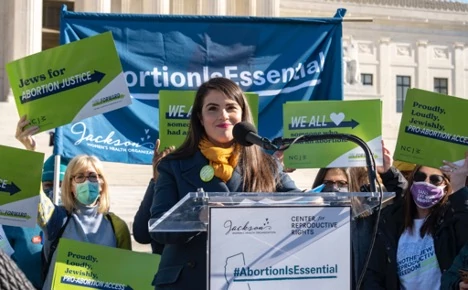 In May 2022, soon after the leak of the explosive U.S. Supreme Court opinion overturning Roe v. Wade, NCJW organized a rally at the U.S. Capitol that drew what the organization estimated was roughly 4,000 Jews from a wide range of backgrounds and observance levels. Around the same time, Katz led the organization in designing a toolkit for a "Repro Shabbat," encouraging Jewish clergy to learn about and teach traditional Jewish perspectives on reproductive freedom. Abortion is permitted and sometimes even required if the life of the pregnant woman is at risk, the toolkit instructs. More than 2,500 congregations have participated in the program.
The organization has also counseled more than 300 other Jewish organizations and several hundred concerned individuals with questions about how to respond to abortion bans in their state. "We are encouraged that so many organizations and people are reaching out to us, and we're doing our best to keep up with the demand," says Katz.
We are encouraged that so many organizations and people are reaching out to us.
To maximize its impact, NCJW collaborates with organizations outside the Jewish sector working on the frontlines of reproductive rights and justice. This has included support for seven abortion-related lawsuits in which plaintiffs from various states are claiming that their religious freedom was violated. In a case in Missouri, NCJW helped identify and recruit clergy as plaintiffs in a suit brought by National Women's Law Center and Americans United. 
Beyond these efforts, NCJW has raised more than $1 million, mostly in small donations, to help the National Abortion Federation support women traveling outside their home states to access abortion care. 
"We're both proud and sad that we have to do this," Katz says.
Women's rights are fundamentally violated if they are living in fear, facing physical threats at home or work. Jewish Women International (JWI), another leading advocacy group that is more than a century old, has made recent major progress in its mission to champion the safety of women, girls and gender non-conforming people.
In 2021, JWI published a groundbreaking study of domestic violence in the Jewish community. Its survey of survivors and advocates revealed a great unmet need for multifaceted support.
"We're a community that prides itself on being there for our people, so these findings told us that we had to act," says JWI CEO Meredith Jacobs.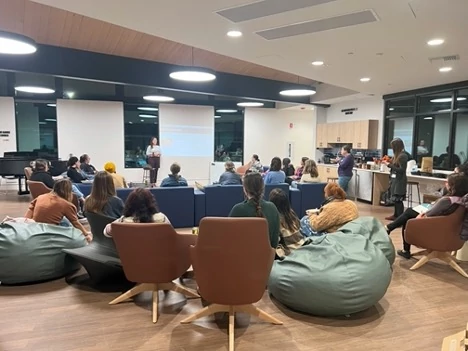 In a speedy initial response, the organization created the National Center on Domestic & Sexual Violence in the Jewish Community as a hub for education, resources, research and policy development. 
Within less than two years, the Center launched three powerful projects:
The National Collaborative of Jewish Domestic Violence Programs, which provides free training, education, networking and other resources to Jewish community organizations serving domestic violence survivors;
Here For You, which trains staff at Jewish Community Centers (JCCs) across the country to spot signs of abuse in family members and then institute policies and programs that support their recovery and resilience, and;
Life$avings, through which JWI staff train domestic violence support providers to teach financial literacy classes. The workshops help survivors gain the confidence to create a budget, improve their credit and pay down debt.
"Empowering survivors financially is essential for their long-term safety and security," says Jacobs, who notes that JWI's 2021 study found that 98% of domestic abuse survivors reported a lack of financial resources as their top barrier to escaping violence.
Shaping communal standards
With the rise of the #MeToo movement, Jewish organizations became more aware of sexual harassment and other safety and equity issues in their workplaces. Since then, efforts to address these issues have extended to seeking fundamental, systematic changes in  Jewish working environments and other communal spaces. 
SRE Network, led by Executive Director and Schusterman Fellow Elana Wien, unites more than 160 Jewish national and local organizations, including schools, camps, federations, Hillels, youth groups, social-service agencies and more, committed to addressing gender-based and other forms of harassment, discrimination and inequity. 
The network is known for creating the first standards relating to communal safety, respect and equity, and its members are annually assessed on their progress and challenges. 
Under Wien's leadership, in just the past five years, SRE Network has also awarded more than $5 million in grants and other supports to groups committed to enacting the standards. 

"We have a very diverse portfolio, including expert practitioners who create new tools and Jewish organizations working to implement the standards in their workplaces," says Wien.

This includes a partnership with another Schusterman grantee, Sacred Spaces, which developed a policy toolkit to help organizations build safer and more equitable workplaces. SRE staff and advisers have supported and guided the effort, known as Keilim (Hebrew for "vessel"), since its inception. More than 2,300 users have already accessed the toolkit, Wien says.
SRE Network funding also supports special training for the ethics committees of the Central Conference of American Rabbis, the Rabbinical Assembly and the Reconstructionist Rabbinical Association. "There's a clear need to have robust ethics policies in place to prevent and address abuses of power by clergy," Wien says.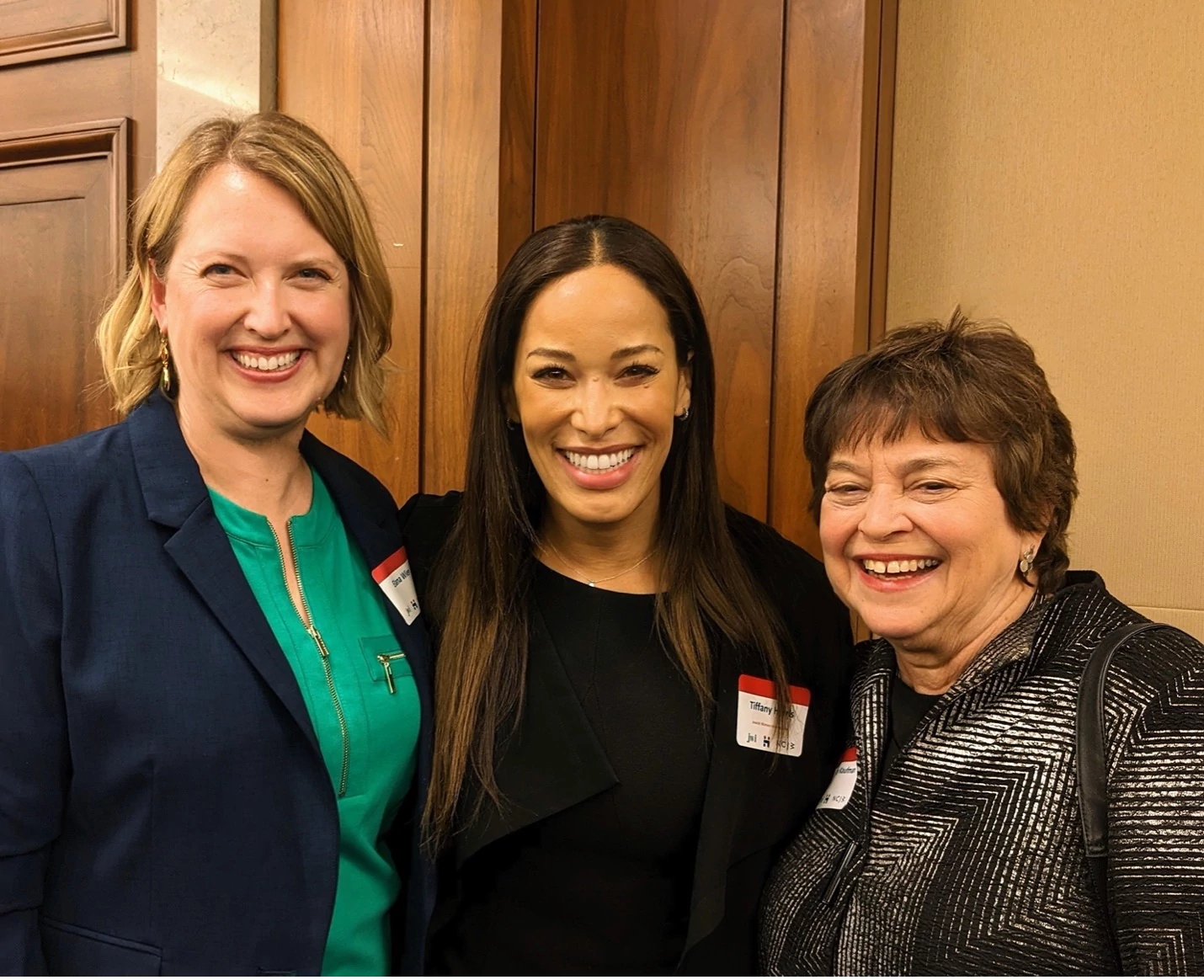 With the end of pandemic restrictions on in-person meetings, Wien says she's looking forward to the Network's first in-person annual convening since 2019: a June 6-7 gathering at the Bohemian National Hall in New York City. The meeting will feature a keynote speech by New York Times investigative journalist Jodi Kantor, who shared a Pulitzer Prize for her reporting on the Harvey Weinstein sexual harassment scandal.
"There's something about being together in the same room, shoulder-to-shoulder, that really energizes all of our network members, reminding us we're not alone in being committed to bringing positive change to our community," says Wien. 
Looking ahead, Wien notes: "We're in a very polarized, divisive moment in our society, in which there's a lot of fatigue, frustration and confusion about the way forward. We're working through all of that to try to ensure a future where each of us is respected and safe and able to reach our full potential."